With so many low-cost, high-megapixal digital cameras on the market these days, we'd expect to be seeing lots of high-res, vividly colored pictures everywhere. Despite the technology, however, the current rage is the retro look–with everything from grainy black-and-whites, washed-out colors of the Instamatic era, and pictures that look like they survived a flood being all the rage right now.
With literally hundreds of camera apps available in the app stores of the various smartphone platforms, there are no shortage of tools to make your photos look old. But most of these apps take pictures made to look like those of the cameras of yesteryear. When a Kodak moment comes about, how do you quickly decide which style to use, let alone find the right app to take it?
Pixlr-O-Matic is different. Instead of being a camera app, Pixlr-O-Matic modifies the photos from you phone's native camera app (or any other source for that matter). From Autodesk, the creators of the very cool Pixlr photo editing app—think Photoshop as a service—and, of course, great software like AutoCAD and Maya, Pixlr-O-Matic lets you load an image file and apply any of hundreds color filters, overlays, and borders, creating a new image that looks, well, old.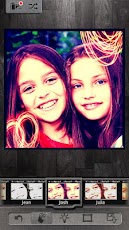 Since its not a camera, Pixlr-O-Matic can be installed on devices that don't have a native camera, like tablets. Personally, I've found that I prefer using the larger screen of my tablet to modify the photos that I take with my phone. I simply transfer the photos via bluetooth or email, open them up on the tablet and go to town. Once I'm done editing, I can save my creations back to my SD card, post them to Pixlr's imm.io TwitPic-like sharing site, or share them to other sources, such as Facebook or Flickr, using the other apps I have on the device.
Pixlr-O-Matic is free and can be downloaded from the Google Play store (that new thing that replaced the Android Market a few months ago, just to confuse all of us Android users). It is also available for the iPhone and iPad, as a web-based application, and as an Adobe Air package that allows it to be run on most any desktop computer that supports Air.
Pixlr-O-Matic on the Android Play Store
The main Pixlr-O-Matic website (for the web-based version and info on other platforms)